Change the visibility of what Stripe Products and Prices are attached to your Payment page
🧰 What You Will Need
A Stripe account set up with Products and Prices

A Searchie Hub with Stripe Products attached
What can I use this for?
There are a couple of different reasons why you may want to swap out what Stripe products and prices are shown on your Payment page:
If you're raising the prices for your digital program, you may want to swap out your original program costs for a more expensive version.

An early bird offer that is being replaced with your full-priced offer.

$0 testing Stripe products needing to be removed before you open cart for your digital program.
Regardless of your reasoning for swapping out your Stripe products and prices, the process is super simple. You can swap out your products as often as needed.
Step 1 - Open your Hub settings
Head to your Hubs tab inside your Searchie account and click on the Hub you want to adjust the Stripe products and prices for.
From your Hub's Dashboard, click on Settings and access your Registration & Payments menu.
Step 2 - Add and hide your Stripe products
From inside your Registration & Payments menu, click Select Prices to view and adjust what Prices are currently attached to and visible in your Hub.
This is where you can hide existing prices and also add new prices if needed.
Be sure to hit 💾 Save once you're happy with your changes.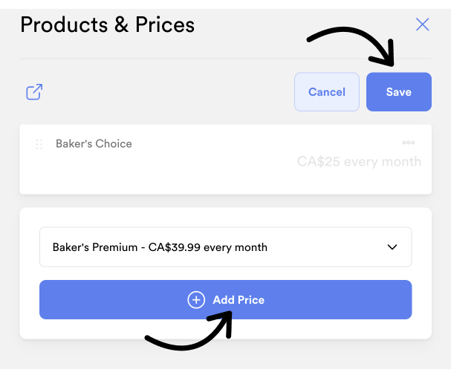 📚 Up Next
Send new audience members to your Payment Hub page

Toggle your Customer Portal off or on

Create Stripe-related Audience Segments to personalize who sees what depending on what they purchase