Learn how to impersonate your audience to test content visibility and troubleshoot inconsistencies in your Hub
🧰 What You Will Need
A private Searchie Hub

Audience Profiles
What can I use this for?
As you build and launch your Searchie Hub, one of the best ways to test that your Hub content visibility is correctly configured is to impersonate a member of your audience.
Each Audience Profile contains details about that person's access to your Hubs and any Audience Tags they may have. Impersonating them allows you to see the Hub through their eyes.
Step 1 - Access the Audience Profile you want to impersonate
From the Audience tab in your Searchie account, find or search for a specific Audience Profile you want to test.
Once you've found the profile you want to impersonate, click on the profile from the list and open their Person Details.

Step 2 - Click on the Hub you want to view
Click on the Access menu to open up your audience's list of Hubs.
Locate the Hub you wish to impersonate and click the Impersonate Hub button next to that Hub's name.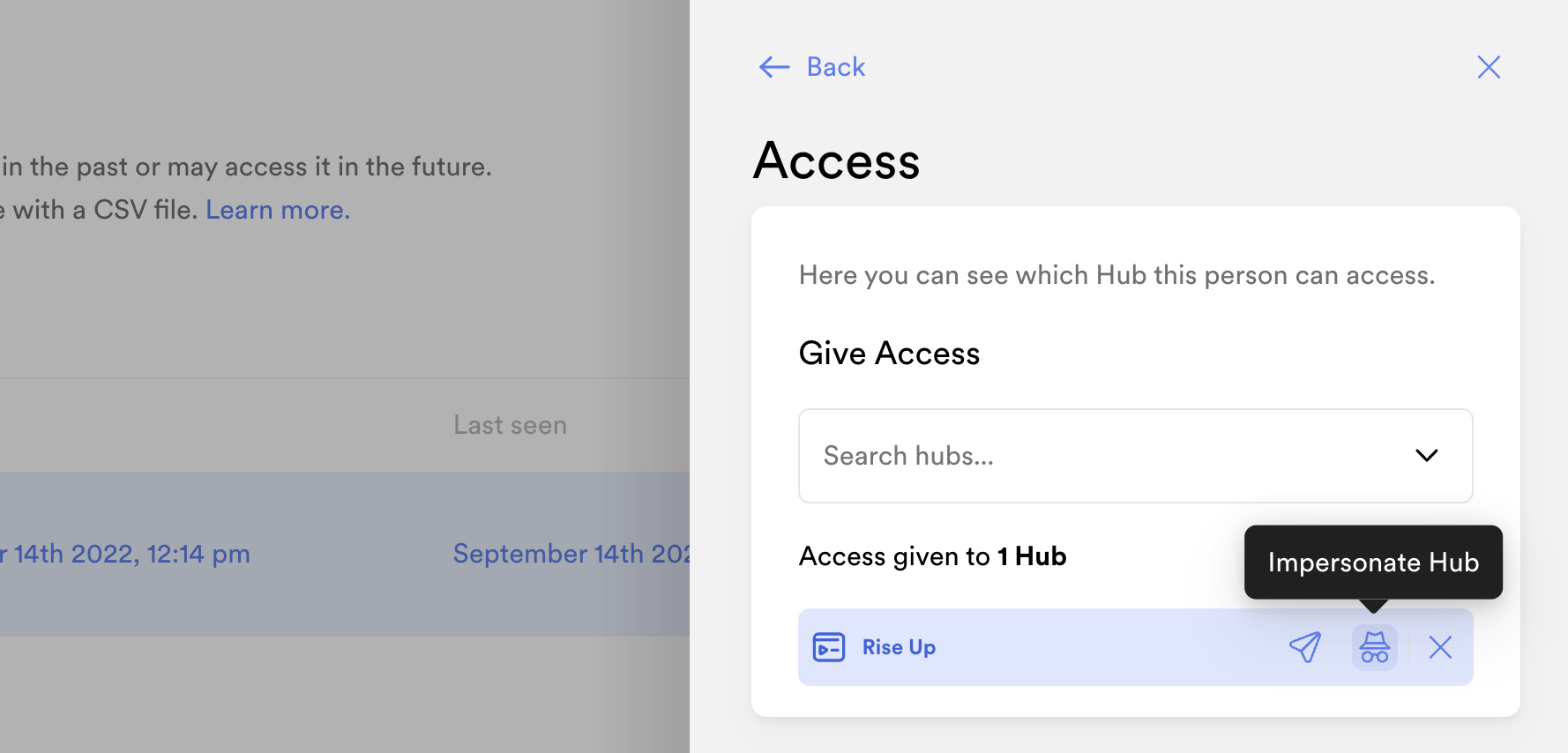 Step 3 - View the Hub as that Audience
After selecting a Hub, your internet browser will automatically open a new tab. In this new tab, you will see the Hub as your selected Audience Profile. This is indicated in the blue bar across the top of the window.

NOTE: If you're using Safari
Because your audience impersonated Hub will appear as a pop-up window from Searchie, you want to make sure that Safari is set up to accept pop-ups from Searchie. Learn more about allowing pop-ups on Safari.
📚 Up Next
Make any needed adjustments to content visibility using Segments

Automate a Playlist

Add the Playlist into a Section in your Hub