🧰 What You Will Need
An activated Searchie account
A Folder with content
NOTE: A paid Searchie Wisdom addon plan is needed if you want to share your plugin with your audience.
What is Searchie Wisdom and how can I get started with using it?
Searchie Wisdom uses the power of GPT to allow anyone with a library of content to create a customized chat assistant. Check out a free live demo of Searchie Wisdom here!

If you're interested in getting started with Searchie Wisdom™ you'll need a Searchie account, then:

🎥 Import your existing and future content by hooking up one of our many app connections.

⚡ Head to the Searchie Wisdom App in your account to start building out your own personalized chatbot from your content.

🌎 Serve Effectively (and Efficiently): Embed or share your new chatbot anywhere to get your people the answers they need quick.
Step 1 - Create your plugin
Head over to your Apps page in your Searchie account and click on Searchie Wisdom to create a new plugin. Give your new plugin a name, then click on your new widget to build it. 🛠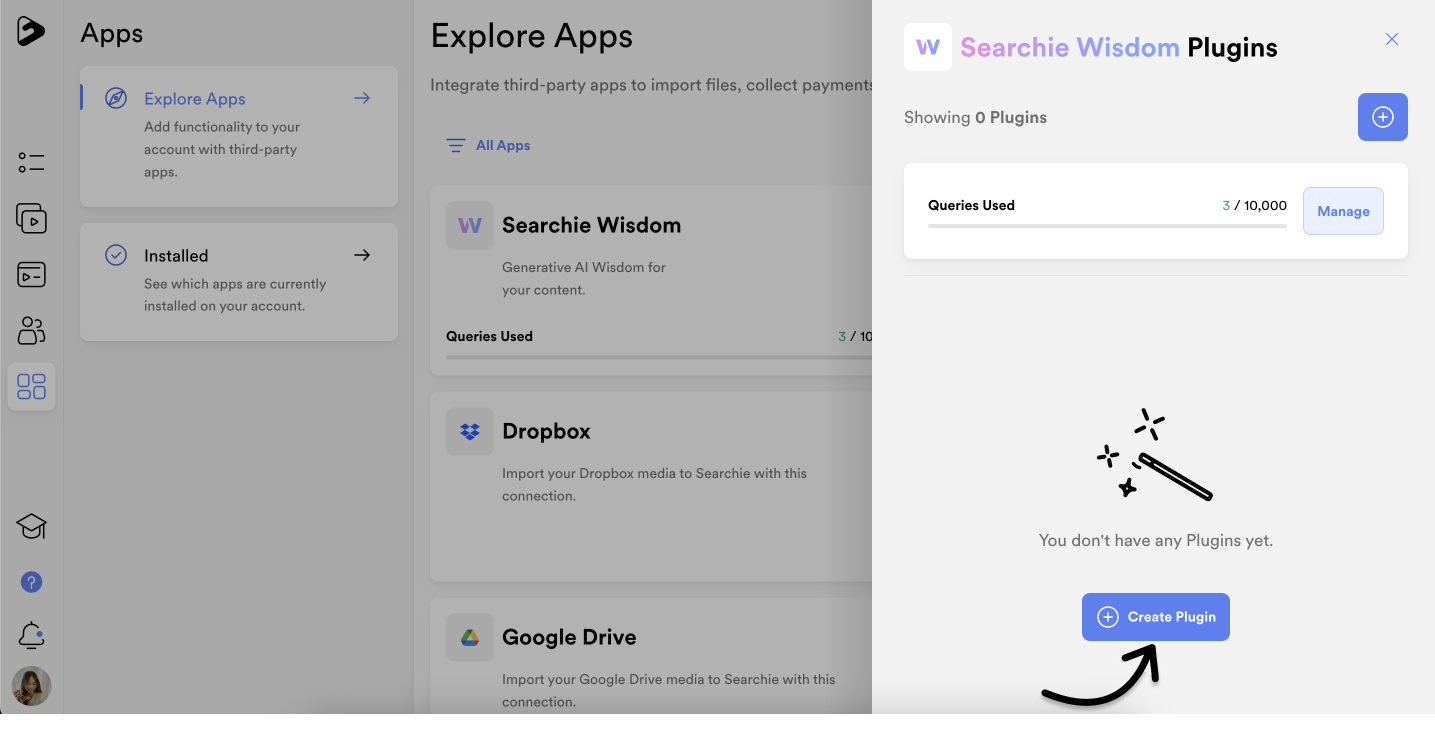 Step 2 - Build your plugin
Use the ⚙️Settings tab to setup and populate the content and copy attached to your plugin. Any changes made can be seen in the Searchie Wisdom plugin on the right.
Add what videos and audio you want your plugin to pull from in the Content tab. This is the content the plugin will use as its "brain 🧠" to generate its responses, so it is important to consider what Folders and content is included. Folders are used for internal content organization and allow you to group large volumes of content together. Any content imported from a third party (like your Podcast or Zoom) will automatically get sorted into one neat folder.

If no specific folders are selected, Searchie Wisdom will search through your entire Searchie Library to generate responses.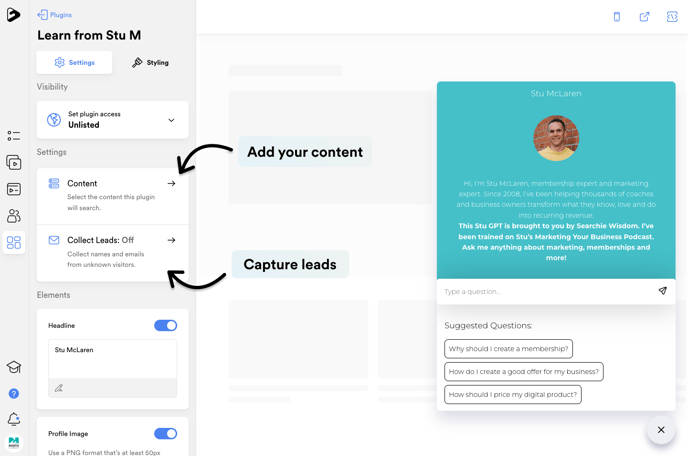 You can also collect the names and emails of visitors who interact with your plugin. Click on the Collect Leads option or check this article for more information.

Continuing through the Elements section, you can add a Headline, Profile Image, and a Description.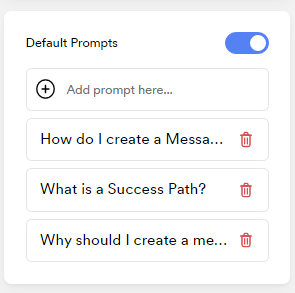 Lastly, create some Default Prompts to jumpstart your audience's interaction with the plugin.
These will appear as Suggested Questions on your Searchie Wisdom plugin. This is a great place to include frequently asked questions or key themes that your audience is interested in.
Step 3 - Finalize how your plugin is styled
Once you're happy with plugin's settings, you can toggle over to the Styling menu to customize how the plugin itself appears and what colors are used.
Use the Colors menu to pick an accent and background color.
You also have the option to change the default plugin appearance. Use the Layout menu to configure how you want the plugin to appear on a page. Choose a floating or full configuration and between left and right alignment. Toggle between these options to preview how they'll appear directly on your screen.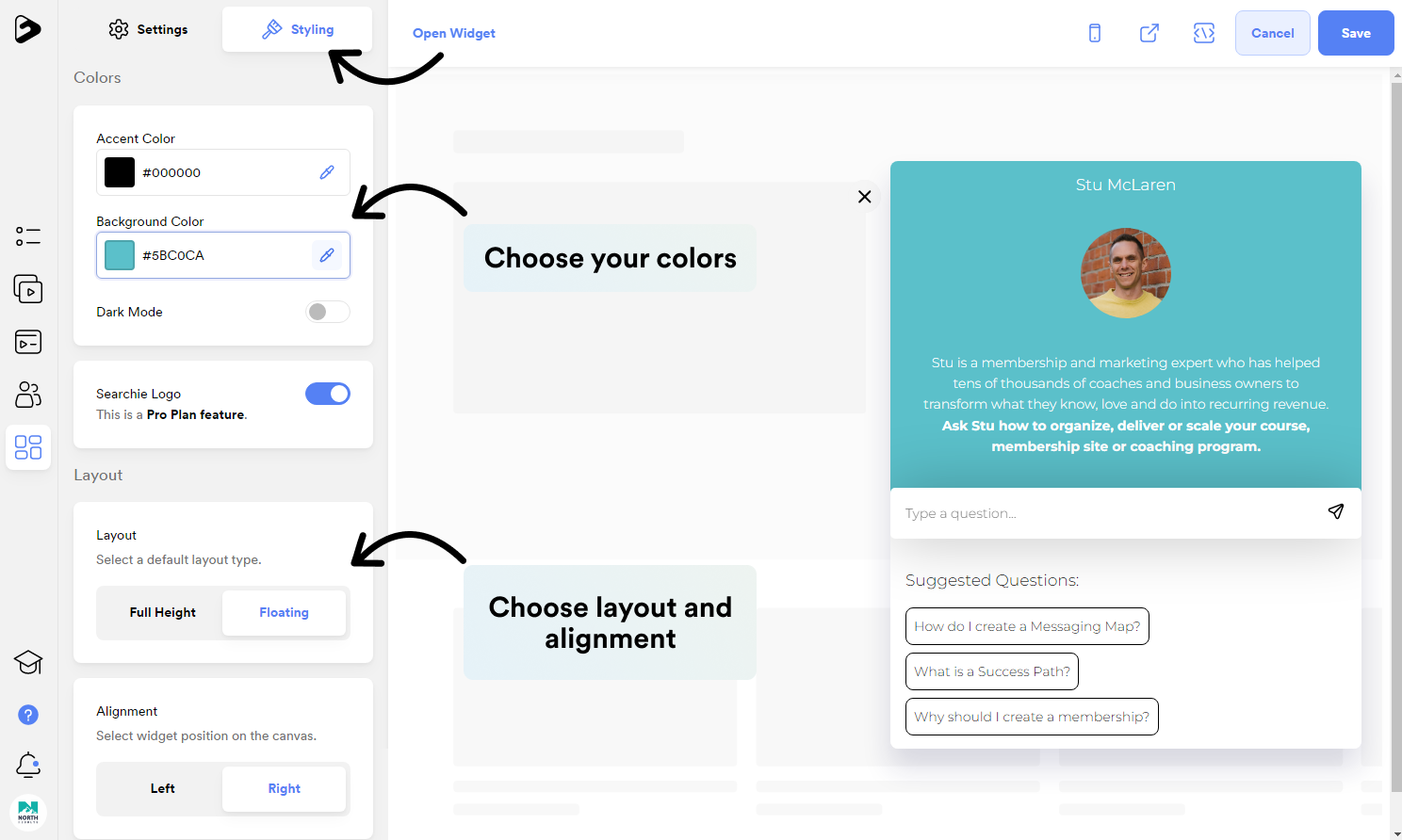 Continuing through the Styling menu you also have the option to select your Button Type, selecting a Custom button type will add some additional code to the plugin embed that you can customize on your website to match any style or design you wish. Selecting the Preset button uses a default button style and allows you to choose the location of it on the screen.
You can also select a font that best suits your style 😎, change the search Search Placeholder text, and choose if you'd like to Show Dates for your references.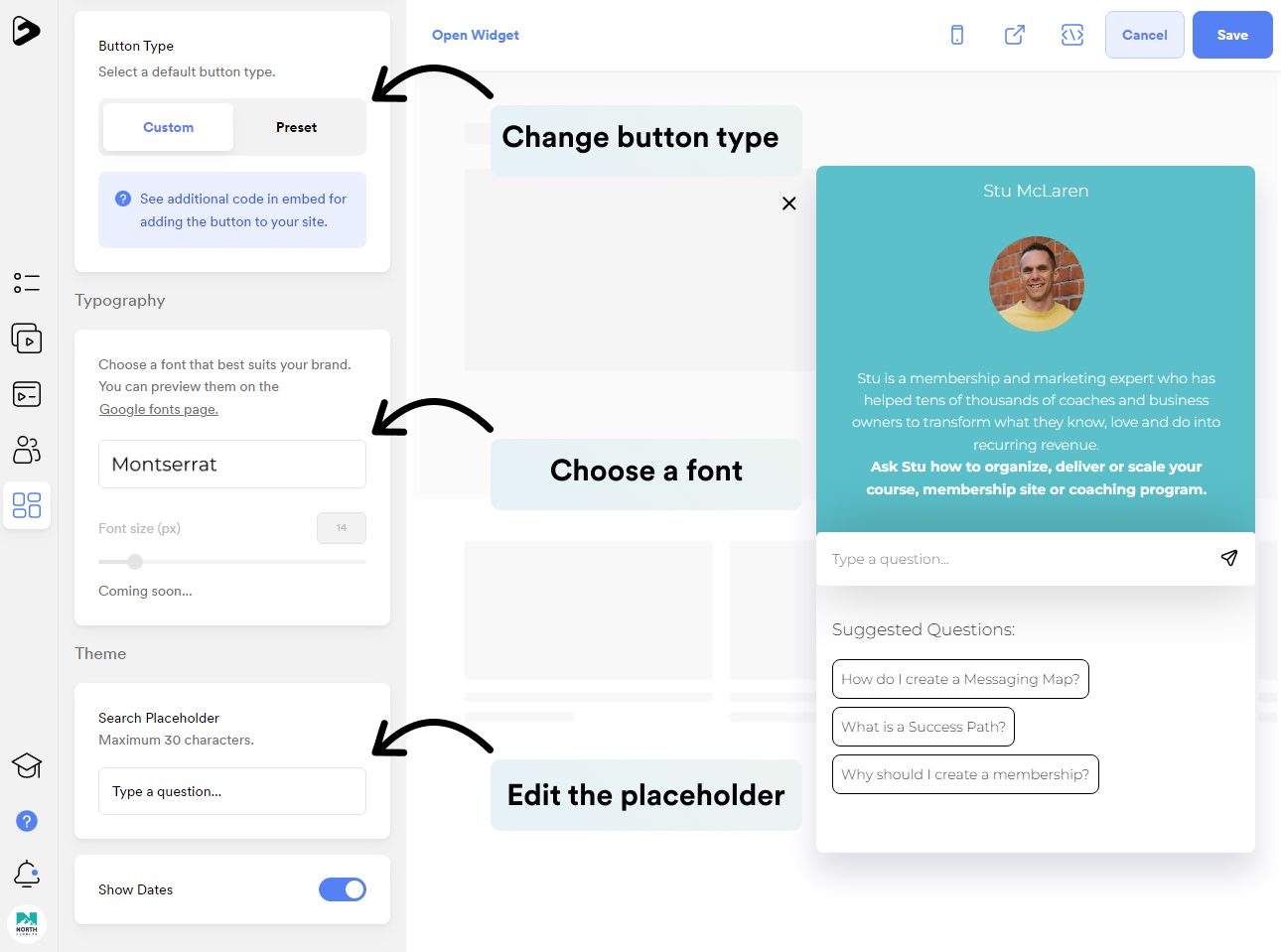 Step 4 - Try it out 🎨
Enter a prompt into the plugin to watch Searchie Wisdom work its magic. 🪄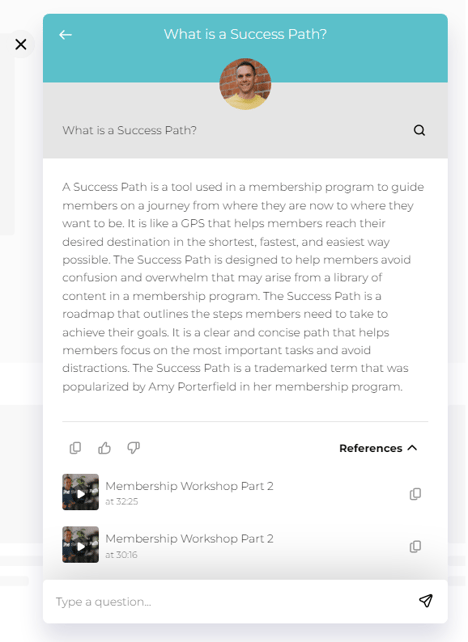 Step 5 - Share your plugin with your audience
You have two ways to share your Searchie Wisdom plugin with your audience:
Embed your plugin into any website. Simply paste the embed code found with your plugin inside an HTML section in your website.
Share the direct link to your plugin. This will open your plugin on a new page for your audience. 😊
For more information or for help with Searchie Wisdom, contact the Customer Success team here.