Add people to your audience list and grant them access to your private Hub
🧰 What You Will Need
A Hub set to private
Step 1 - Access the Audience tab
Head over to the Audience tab and click the Audience icon in the top-right corner of your screen. This will open up a dropdown menu where you can select the Add Person option.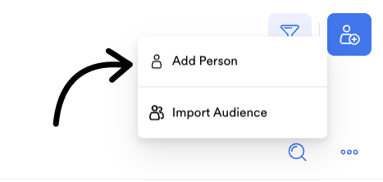 Step 2 - Fill in Audience details
Enter the audience member's details in the form. The Name and Email Address fields are required while the Phone Number is optional. Audience members will log in to your Hub platform using the email you assign to them.

Step 3 - Grant access to your Hubs for the new Audience Member
Scroll down to continue adding details to your new member's profile. Add manual Achievements, grant Hub access, and affix Audience Tags if applicable.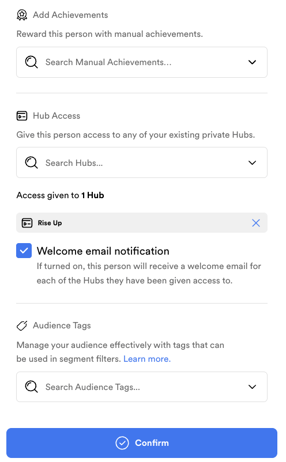 Check ✅ Welcome email notification after granting Hub access so your new member will be directed to your Hub via email to complete onboarding. Click Confirm once complete!
Adjust these access permissions in the future by clicking the three ellipses on the Audience Member's profile from your Audience list, then selecting the Access option from the pop-out menu.

Now you will be able to grant access to multiple Hubs, resend Welcome Emails and impersonate audience members. Impersonating your Audience member will allow you to view the Hub as they would see it. 🕵🏻‍♂️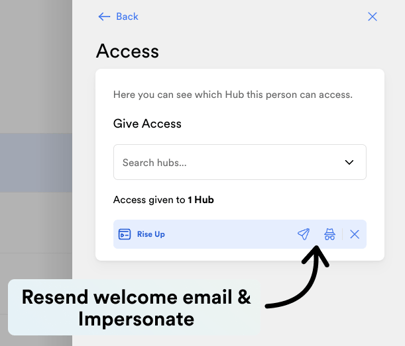 📚 Up Next
Analyze the consumption habits of your audience

Add a Custom Domain to your Private Hub